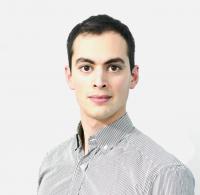 Personal Information
First Name

Santiago

Last Name

Veros

Gender

Male
Location
Country

Argentina

State

Caseros, Buenos Aires

City

Ciudad jardí, El Palomar
Musical Information
Musical Activities

Composer
More
Website

www.santiagoveros.site

About Me

The Argentine choral composer, Santiago Veros, was born in 1990 in Buenos Aires. At age
7 he began his musical studies and at the age of 18 he moved to La Plata to study Composition at the National University of La Plata.
In 2013 he began his professional career as a choral composer writing for the children's choir of the municipality of Pilar in Buenos Aires. Santiago soon internationalizes his art writing for choirs in the Philippines, Chile, USA, South Africa, New Zeland, Taiwan and several countries in Europe. In 2018 he became the first Latin American composer to write music for the largest choral festival in the world, the Europa Cantat 2018 that was held in Tallinn, Estonia.
Under his philosophy of joining borders, he has created virtual choirs with people from all over the world, built a global consortium called The Choral Club and created works under humanitarian slogans.
Currently Santiago works full time as a composer and also offers workshops to encourage the creation of new music and to write music in a community way.