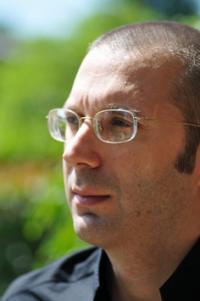 Personal Information
First Name

roberto

Last Name

brisotto

Gender

Male
Location
Country

Italy

City

Ponte di Piave (TV)
More
Website

www.robertobrisotto.com

About Me

Born in 1972, Roberto Brisotto gratuated with honors in Piano and, later, in Organ and Organ Composition from "C. Pollini" Conservatory in Padova. Also, he graduated (first degree) with highest honours "cum laude" in Choral Composition and Choir Conducting from "G. Tartini" Conservatory in Trieste. He attended many masterclasses with prestigious teachers and performed many concerts as conductor, pianist and organist, both as a soloist and with different ensembles (vocal and instrumental) and choirs. He made tv and radio broadcasting and cd recordings and, also has been awarded repeatedly in national and international competitions. He composed choral, vocal and instrumental music, also for theatre, short movies and multimedia exhibitions. Many compositions have been published (Lim, PH Publishers, AssociazioneCoriToscana, Usci FVG, ed. Carrara), recorded on cd or dvd, broadcasted by radio (Radio Rai FVG, Radio Rai International, Radio Rai SLO, Radio Capodistria) and tv. Many works have been performed by prestigious artists, ensembles and choirs in Italy and abroad (USA, Thailand, Argentina, Switzerland, Germany, France, Portugal, Spain, Slovenia, Hungary, Ireland, England, South Africa), also in important churches, concert halls and venues (Royal Accademy of Music of London, Dublin Concert Hall, Palau de la Musica di Barcellona, Budapest Music Center, Endler Hall in Stellenbosch University Konservatorium, Pontificio Istituto di Musica Sacra di Roma, Sale Apollinee del Teatro La Fenice di Venezia, Teatro Sociale di Como, Teatro Sloveno di Trieste..). In 2017 some of his compositions for choir and for organ has been recorded for the label "Tactus" in the cd "Cantus Dei Gloriae"context of a recording project about the contemporary sacred music in Trieste.
After winning a national public exhamination, from February 2017 he's the new Music Director and Conductor of the historical "Cappella Civica di Trieste"; he had been before Resident Organist from 2008 and Music Director "pro tempore" from 2014 to 2016.
He succeeds the composer, pianist, organist and conductor Marco Sofianopulo (1952/2014).
In this new role he's conducting the choir in the Sunday and Festive services in the S. Giusto Cathedral, broadcasted by Rai FVG channel, and also in the concerts and in the recording projects. Recently the most remarkable are two recordings for the label "Concerto Classics" about the music of A. Luchesi (1741/1801), with "Busoni" Chamber Orchestra, and two performances of the "Krönungsmesse" by W. A. Mozart under the baton of F. M. Bressan.
He was appointed as a jury member for some national and international competitions and invited as teacher in choral conducting courses.
He's teaching in some music schools and collaborating with different music and cultural associations; currently, he's conductor of the vocal ensemble "In Contrà" .