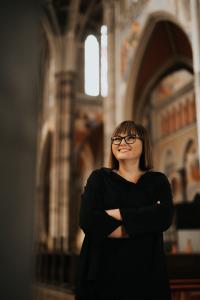 Antoaneta Radocaj - Jerkovic
Personal Information
First Name

Antoaneta

Last Name

Radocaj - Jerkovic

Gender

Female
Location
Country

Croatia

City

Osijek
More
Website

www.antoanetaradocaj.com

About Me

Antoaneta Radočaj-Jerković, PhD was born in 1976 in Osijek. She is Associate Professor at the Josip Juraj Strossmayer University, Academy of Arts and Culture in Osijek. Along with her MA in Choral Conducting at the University in Pecs, MA in Voice at the Academy of Music in Zagreb and in MA in Music Culture at the Faculty of Education in Osijek, she holds an postgraduate degree in Music Pedagogy from the Academy of Music in Zagreb. She obtained her DSc at the Faculty of Humanities and Social Sciences in Zagreb. As a conductor, Radočaj-Jerković received her training in Hungary, Germany, the USA, at prestigious academies, such as the Eastman School of Music and the Westminster Choir College.
She has directed performances in Croatia, Greece, Italy, Germany, Hungary, Poland, United Kingdom, Austria, Bosnia and Herzegovina, Bulgaria, Canada, China, Sweden, France, the USA and Australia. Radočaj-Jerković achieved notable success with the 2013 concert she directed at the famed Carnegie Hall of New York. The production included a repertoire dedicated to Croatian composers and performed by the Brevis Vocal Ensemble. To similar success, in 2017, she directed the performance of the Brevis Vocal Ensemble at the Sydney Opera House.
Radočaj-Jerković has received over thirty awards at national and international choir competitions for her artistic work. She was recognized as best young conductor by juries in Sweden and Italy. Her hometown has honored her for her special contribution to music culture and art.
Radočaj-Jerković has recorded both for radio and television. She has recorded five solo albums, appearing on a number of compilations. Her recordings have become part of the listening repertoire of the curriculum of elementary school music lessons. She has prepared choirs for operas, operettas and musicals as well as performed as a soloist with the Croatian National Theatre in Osijek.
Radočaj-Jerković publishes and presents papers on music pedagogy and choral singing throughout the world. In 2014, she initiated the International Research and Art Symposium on Pedagogy in the Arts. She has published two books: 'Singing in Music Classes' and 'Choral Singing in Education'.
A member of national and international juries of choral music competitions, she regularly holds seminars, lectures and workshops for choir conductors.