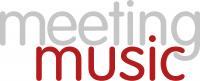 Personal Information
First Name

meeting

Last Name

music
Location
Country

Germany

City

Pohlheim
More
Website

www.meeting-music.com

About Me

It started in Budapest, 1988.
Under the direction of M° Gábor Hollerung and Piroska Horváth.

One new Competition and Evaluation System was born and became known to the choral world by the name "Musica Mundi".

Since then:
more than 125 events, over 6.000 choirs from 90 countries, of all continents two people, one vision and a constantly evolving international team with one goal only: to work for the choral world!

Our mission is:
to spread the joy of choral singing to the global Public to bring more and more people to sing in a choir to unite and bring them together to our events.

In our vision, the world is a global choir: Join us!

"All the World is a Choir"