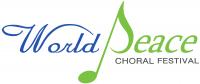 World Peace Choral Festival
Personal Information
First Name

World Peace Choral

Last Name

Festival
Location
Country

Austria

State

- none -

City

Vienna
Musical Information
Musical Activities

Marketing
More
Website

www.wpcf.at

About Me

The 10th World Peace Choral Festival in Vienna from 25th to 28th July 2019 is open for application.
From July 25 – 28 2019 Vienna will be once again the stage for choirs from around the world. Under the slogan "Coming together to sing, Singing for a better future" the participants will model and promote world peace.
Music is the common language of our world. For more information please visit www.wpcf.at or write info@uniart.at or uniartnikilcy2018@gmail.com.