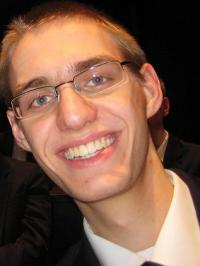 Personal Information
First Name

Lucas

Last Name

Heller

Gender

Male
Location
Country

Germany

State

Saxony

City

Leipzig
More
Website

www.ensemblenobiles.de

About Me

Lucas Heller was born in 1991 in Köthen, Saxony-Anhalt, where he received his first musical training in playing piano. He had been member of the St. Thomas Boys Choir from 2000 to 2009 under St. Thomas Cantor Professor Georg Christoph Biller. He often performed as choir soloist. As the choir's domesticus he took responsibility as their spokesman and further gained a lot of experience in management affairs. For his commitment to the St. Thomas Boys Choir he was awarded the Legat of the Foundation of St. Thomas.

After finishing grammar school, he begann his training to become a banker at the Sparkasse Leipzig, which he successfully completed in February 2012. Today he commits himself to the study of musicology at the University of Leipzig.

Lucas joined the St. Thomas Boys Choir's promotional organization in 2008 and took on further responsibility as a member of its managing board in 2013.

He is permanent member of both the Gewandhauschor Leipzig and the Chamber Choir of Central Germany. He often helps out in other ensembles in Germany, for example the chamber choir Josquin des Préz, the Concerto Vocale, the Robert-Franz-Singakademie Halle/Saale and the vocal quartet con gusto. His engagements include solo parts like Jesus in the "St Matthew Passion" by Heinrich Schütz.

As a member of the St. Thomas Boys Choir he took singing lessons by Stephan Heinemann. As of February 2011 he is a student of Susanne Krumbiegel at the musical school "Johann Sebastian Bach". In 2014/2015, he received a scholarship for singer promotion by the Free State of Saxony.

Lucas is a founding member of Ensemble Nobiles.