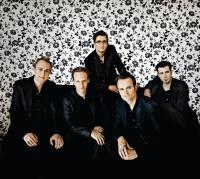 vocaldente - a cappella art
Personal Information
First Name

vocaldente -

Last Name

a cappella art

Gender

Male
More
Website

www.vocaldente.com

About Me

vocaldente has established itself as an internationally sought-after vocal ensemble, winning international competitions and boasting impressive references.

vocaldente won first prize at the Taiwan International Contemporary A Cappella Competition 2008 in Taipei (Taiwan), the Tampereen Sävel 2007 in Tampere (Finland) and the Harmony Sweepstakes A Cappella Festival 2008 in San Francisco (USA). By winning the world-renowned US contest, vocaldente can call themselves the National Champions of the world's biggest a cappella competition, becoming the first foreign speaking, and only the second ever non-American winners.

Unlike other a cappella groups, vocaldente don't rely on technical devices, amplifiers and special effects. Their passion is an art almost lost in the entire vocal scene: performing a cappella without microphones, conveying the feeling and verve of 80 years of musical entertainment in its most authentic way – purely acoustic, taking a cappella back to its proper roots. However, their repertoire is equally contemporary, as well as covering pop and rock music from the past eight decades: Taking their audience on a captivating journey from the Roaring Twenties to the latest pop hits, vocaldente create a completely unique new form of a cappella that's directly connecting with the audience, touching them deeply and delighting them utterly.