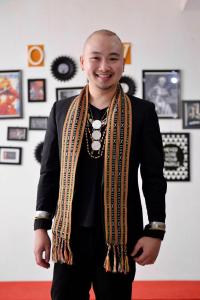 Personal Information
First Name

carrey

Last Name

oliver

Gender

Male
Location
Country

Malaysia

State

sabah

City

kota kinabalu
More
Website

riselikeaphoenix.rocks

About Me

Carrey Oliver is a songwriter, choral music practitioner, music consultant, vocalist, educator, performing art coach and professional voice teacher in Sabah (North Borneo), Malaysia since 2004. His clients include private and government groups, public schools, colleges, universities, as well as private students of local Sabahan and Kuala Lumpur-based recording artistes.

He learnt western classical singing from Baritone Master, Yap Hon Leong, and International Soprano, Phoon Sook Peng. As a voice researcher, Carrey fused his classical voice skills with the Contemporary Commercial Music techniques inspired by established modern voice experts and specialists to develop his own teaching style as part of the trademark training in the Oongisvoce Music Mansion learning system.

Carrey received his Licentiate Diploma in Musicology and Research with his thesis entitled "Choral Pedagogy: Teaching Non-Musical Adult Choir in Multi-Cultural and Multi-Religious Malaysia" and further awarded with SCSM International highest Fellowship Diploma with the research thesis titled "Teaching Choral Singing to the Public Service Employees and its Impact to the Well-Being in the Workplace". He also holds a Fellowship qualification from the prestigious "Australian Society of Musicology and Composition" and became the Fellow of the "Guild Of Musicians and Singers" (London).

In 2015, Carrey founded "THE OV SINGERS" program, which later culminates into the Oongisvoce Music Mansion highly achieved choral ensemble with numerous International Music Exam awards. The OV Singers are beginners and amateur singers from various social background aged between 15 – 50 years of age with learning objectives to encourage refined artistry in choral music, performing arts, and well-being through group singing. Under his direction, The OV Singers participated in the international choral competition for the first time with other 83 choirs from nine different countries and received two Silver Class-A Diplomas for the Mixed Choir and Show Choir Categories during the MCE International Choral Competition 2018 held in Kuala Lumpur Performing Arts Centre.

Carrey is the choral instructor for the "The Sindak Sunduvan Choir", which established in the year 2010 and later changed its name to "The iGenVE SMK DPM" since 2015. The iGenVE consists of highschool students aged 13 – 17 years old from the Datuk Peter Mojuntin Secondary School (SMK Datuk Peter Mojuntin) who received two SCSM International Music Examination awards for Grade 4 and Grade 5 in Singing Ensemble. In 2019, Carrey trained and conducted the new batch of The iGenVE to participate in their first ever international competition during the Kuala Lumpur International Choir Competition held at ASWARA, Kuala Lumpur and received a Silver Class-A Diploma Award and Best Costume Award.

Carrey previously served as the Choral Director and Conductor for "The Suara Bayu Choir" (a community choir consist of private and government working adults from diverse social background) in 2005 – 2012 who won Champions title for the Sabah State Level Choir Competition and Malaysia National Level Choir Competition in 2007 organized by the Malaysian Department of National Unity and Integration.

One of his proud achievements is in the promotion of choral culture and arts among the local Sabahan by organizing choral festival that brought collaboration of several strong local and international institutions, which materialized in September 2015. With the hard work and support from Anna Marius Laison (Organizing Chairperson) and Linda Lazarus (Organizing Secretary), he co-founded "The 1st Sabah Choral Festival (1st SCF)" and served as its Artistic Director to ensure quality in the adjudication process as well as in the quality of repertoires performed by the participating choirs. With Panel of Juries by Ms. Denise Collins (Senior Examiner Australian GUILD Music Education), Ms. Phoon Sook Peng (Malaysian International Soprano), and Mr. Andrew Poninting (University Malaysia Sabah's Senior Music Lecturer), "The 1st Sabah Choral Festival" pride itself by gathering talents such as the Solar Wind Singers (Winner of Acappella Category, 1st SCF) and The Malefficient (Overall Champion of 1st SCF), who later continue to win several awards in the national and international competitions including the Malaysian Choral Eisteddfod and Bali International Choral Festivals.

Being a native of Tambunan and lover of Sabah's natural beauty, Carrey share his skills as the principal Voice Teacher and the Artistic Director of the Oongisvoce Music Mansion, Penampang with responsibility for artistic development of its learners and its teaching staffs since 2014. Carrey is also trained in Business Administration with an MBA from the Anglia Ruskin University and fused his musical skills as the Artistic Director to help the growing community of music enthusiasts in the Oongisvoce Music Mansion. In his free time, he enjoy bookworming and cooking as well as being an avid fan of Masashi Kishimoto's work – Naruto and Boruto.