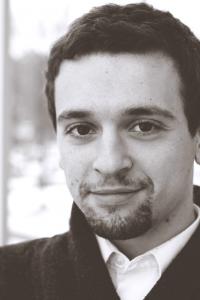 Personal Information
First Name

Zachary J.

Last Name

Moore

Gender

Male
Location
Country

United States

State

Wisconsin

City

Fond du Lac
More
Website

zacharyjmoore.com

About Me

Zachary J. Moore (b. 1992) is an American composer and arranger, and recent graduate of the University of Wisconsin - Eau Claire with a Bachelors degree in Music Education. Zach, who is a native resident of Wisconsin, attended Muskego High School and began composing in 2009 at the age of fifteen. Since then, he has had the opportunity to take master classes and guidance from some of the world's leading choral composers including Eric Barnum, Dan Forrest, Ola Gjeilo, Ethan Wickman, Timothy Takach and Jake Runestad.

From 2013 to the present, Zach has received an increasing amount of commissions from both choral and instrumental ensembles all over the world. In 2014 the North Central American Choral Directors Association commissioned him for their project, "A Community That Sings." More recently, he was commissioned by the University of Wisconsin – Eau Claire Wind Ensemble to write his first ever instrumental work, In Memoriam, for their 2016 performance at the CBDNA North Central Regional Conference. In addition to his numerous domestic commissions, Zach has also received two international commissions as well, the most recent being for the Cheong Gong High School Male Choir, winners of the 2013 International Busan Choral Competition. Zach also served as the 2014-2016 composer-in-residence to The Eau Claire Master Singers. The residency was comprised of five new commissions, one being The Fall of Rome, commissioned for the Franklin D. Roosevelt 75th Anniversary Concert held in Washington D.C., 2016.

Aside from commissions, Zach's compositions have received prestigious performances at state conventions, including Music Educator Association Conventions (Nebraska -2014, Florida – 2015/2017 and Connecticut 2017), American Choral Director's Association Conferences (Florida - 2015, North Central Choral Director's Association Regional Conference - 2014 and California Central Devision - 2016). Internationally, Zach's works have been performed in Africa, Europe, North America and Asia, with the most recent notable performance being by the Taipei Youth Choir (2015) at the Taipei National Concert Hall.

Throughout Zach's career as a composer, he has received distinguished awards for his compositions. In 2010 his first composition received third place in the Wisconsin Student Music Association's Student Composition Project. More recently, in 2014, he submitted an entry to the renowned American Prize national competition, earning third place as well.

For information regarding scores and commissioning please visit, Zacharyjmoore.com.