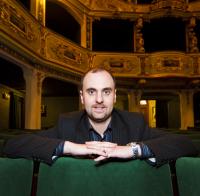 Personal Information
First Name

Christopher

Last Name

Muscat

Gender

Male
Location
Country

Malta

City

Naxxar
More
Website

www.christophermuscat.com

About Me

Recipient of first prizes in the Joyce Dixey Competition (UK) in 2000 and in the Jaume Dotras Serrabella Polyphonic Composition Competition (Spain) in 2006, Christopher Muscat has been described by the local press as "a young composer of outstanding talent" (The Sunday Times) and the "stark originality" (The Malta Independent) of his works has earned him an ever increasing reputation. His works have been performed in many important European music centres in Italy, England, Finland, Czech Republic, Spain, Belgium and Germany (including a performance at the prestigious Philharmonie in Berlin).

As a conductor, Muscat was mainly responsible for the revival of Maltese romantic composer Paolino Vassallo and over the years has also premiered a number of works by contemporary composers. His "clear conducting style" (It-Tor?a), "high quality conducting" and "accomplished conducting technique" (The Sunday Times) have received constant public and critical praise: "there was lots of understanding between the internationally acclaimed clarinettist David Campbell and the conductor" (The Sunday Times of Malta); "[Dvorak's Symphony No. 9] was definitely one of the best performances by the National Orchestra of Malta" (The Times of Malta); "Christopher Muscat at the helm of the brilliant Orkestra Nazzjonali showed the joy of playing Pergolesi's delightful baroque music and demonstrated the timeless emotional validity of this emotionally-charged composition" and "under Christopher Muscat the National Orchestra of Malta conveyed Cimarosa's joyful passion to the desired effect" (Opernnetz).

Besides his role as Music Director of the Jubilate Deo Choir, Muscat's activity in the field of sacred music has seen him conduct numerous special occasions at St. John's Co-Cathedral and Mdina Metropolitan Cathedral in Malta as well as Westminster Cathedral in London. For many years he was the chorus master for operas held at the Teatru Manoel (Malta's national theatre) and as founding conductor of VOCALISE (a voluntary organisation aiming at providing training and opportunities for talented singers), Muscat has coached and conducted a number of productions, amongst these Purcell's Dido and Aeneas and Saint-Saëns' Christmas Oratorio, entirely made up of young Maltese singers.

Christopher Muscat holds a Bachelor of Arts (Honours) degree in music studies from the University of Malta as well as a Master of Music degree (with distinction) from the University of Surrey where he studied with Sebastian Forbes (composition and choral conducting), Steve Goss (composition) and Nicholas Conran (orchestral conducting). Muscat teaches music at the University of Malta and sacred music at the Archbishop's Seminary and is regularly invited to judge international vocal, instrumental and composition competitions.