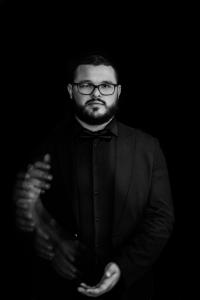 Personal Information
First Name

Franco

Last Name

Prinsloo

Gender

Male
Location
Country

South Africa

City

Pretoria
More
About Me

Composer, Franco Prinsloo, creates in a diverse variety of contemporary classical styles with a specific focus on choral music, vocal music and music for theatre.
He has composed and directed extensively for the stage including Maanmond (2009), Boegoe vannie liefde (2010), Pygmalion (2011), A Dolls House (2012), Skroothonde (2013), A Clockwork Orange, Marat/Sade (2014), Kind(s) (2015), CODE (2015), Mosioua (2016), African Gothic (2017) and Buried Voices (2018) to name but a few highlights. 
He has been the Musical Director for the Nedbank Arts and Culture Trust Performing Arts Scholarships from 2014 – 2018.
For his soundtrack to the film, Wonderlus, Prinsloo was nominated for the prestige Silwerskermfees award for best original score in an Afrikaans feature film.
He is an active composer in the new music scene in South Africa including: The Horizons Project Choir, the Paz Consort and for universities like the Tshwane University of Technology, University of Johannesburg Art Centre and North-West University ARTS.  He has commissioned by prominent choirs including: The Akustika Chamber Singers; The University of Johannesburg Choir; The Potchefstroom University Choir; The University of Pretoria Camerata; The Jacaranda Children's Choir; the Molen Kórus; the Ladinia Women's Chorus and the University of Pretoria Youth Choir. Prinsloo is also currently the conductor of four school choirs: Hoërskool Randburg Koor; Laerskool Fontainebleau Senior and Junior Choir; Laerskool Monument Park Senior Choir.
Prinsloo established and conducts the semi-professional chamber choir, Vox Chamber Choir, in 2017. The choir has 25 members that include professional singers, choral conductors, opera singers and music teachers. The choir will tour to Europe in 2019 and will perform in the Concert Gebouw in Amsterdam and collaborate with the acclaimed Junger Kammerchor Lucente of Munich, Germany.

His choral piece, Pula, Pula! (from his musical: "Naledi - an African Journey"), was commissioned by the NWU PUK Arts for the King's Singers to be performed in 2017. His compositions are frequently chosen as prescribed works at choral eisteddfods and competitions incuding for the past four years at the ATKV Applous choral competition. He has presented workshops on South African choral music and his own compositions internationally including: Austria, Italy, Germany and the UAE.
A selection of his choral music is published at Helbling Verlag (Austria) and available worldwide online. His most recent commission was for Kammerchor | Vocalisti and the acclaimed overtone singer Anna-Maria Hefele.
​His own discography include: "Prima Materia" with Duo Solvtio, an avant garde exploration with fellow composer, André van Rensburg; "Die Ryke dwaas", a solo album of piano contemplations; "Sonder merkwaardige klank" a series of art songs with Netanja Brink; "Mosiuoa", a stage soundtrack of a multi-lingual adaptation of Shakespeare's Hamlet; "Nokturnes", a collection of art songs performed by soprano, Magdalene Minnaar; "The Imaginary Musical", a cabaret with Netanja Brink and Chris Steyn; The international collaboration, "In/Between" with Pieter Bezuidenhout, Jessica Ng and Ching Man Ho Judy; "South African Choral Music Vol. 1" recorded by his own chamber choir, Vox Chamber Choir; "Noodluik" for soprano, harp, clarinet and cello and "Sunnyside Suites" a work from the sound installation with the same title. All of the above mentioned recordings are available worldwide on Apple Music, iTunes, Deezer, CD BABY and more.
​Prinsloo extends beyond the boundaries of his own expressive medium and in 2015 had a sold out solo photographic exhibition at the Artlovers1932 gallery in Pretoria. His sound installations have been featured in notable South African galleries including: Johannesburg Art Gallery in Richardt Strydom's solo exhibition 'Bleek' and his sound work: "Sunnyside Suite", for found sound, poets, voice and marimba during the 2016 Aardklop National Arts Festival. He also participated in a group exhibition with sound art and video installation at the Fried Contemporary in 2017 in "Urban Impressions". He seeks to create through interdisciplinary collaboration and exploration.
Prinsloo explores sound possibilities and often builds his own instruments (the XENOPHONE - a bowed metal instrument) or de-constructs/modifies/destroys old instruments, especially old found piano's, notably as part of the experimental spoken word trio, Dooie Diere, and with his experimental duo, Duo Solvtio, with avant grade guitarist and Shakuachi player, André van Rensburg.
Recently he composed a choral musical: "Naledi - An African Journey" which had its debut in February 2016 both at the South African State Theatre and at the Choralies Festival in France. The work was performed in April 2018 by the Cor di Juni Santa Christina in Val Gardena, Italy. "Naledi an African journey" will be published worldwide by Helbling Verlag in 2018.
In March 2016 he underwent a successful international concert tour to Hong Kong and Singapore with soprano, Jessica Ng, and Harpist, Ching Man Judy Ho, performing his original compositions to great acclaim. The production has since also been staged at the 2017 Aardklop National Arts Festival in South Africa. Prinsloo presented new music for soprano and harp at the 2017 International Harp Congress in Hong Kong and also recorded a new album of the same music with local musicians. In 2019 a new opera "The Book of Thel" in collaboration with Pieter Bezuidenhout will debut at the Black Box Theatre in Hong Kong. In 2018 he presented discussions and presentations about his own compositions for choir in collaboration with Helbling Verlag at the Europe Cantate in Tallinn, Estonia. Further more will he also present a performance of new compositions for viola at the 2018 International Viola Congress (ICV) in Rotterdam with acclaimed South African viola-player, Elmarie van der Vyfer. The programme wil also be performed with a workshop by the composer at the 2018 New Music Indaba.
His composition for large orchestra and choir "Canticum Canticorum" will have it's debut performance at the 2018 Aardklop National Arts festival in Potchefstroom. It will be performed by the NWU-PUK choir, Molen Kórus, Vox Chamber Choir and the NWU-PUK Symphony orchestra.
Prinsloo have been invited to present a workshop and reading session on his music at the 2019 Chor.com festival in Hannover, Germany in collaboration with the publishers Helbling Verlag.
"Prinsloo assimilates and unites disparate traditions within his own idiom" - Paul Boekkooi, South African art critic.