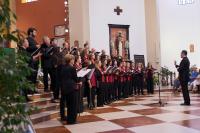 Asociación Musical CORO "SANTA MARÍA"
Personal Information
First Name

Asociación Musical

Last Name

CORO "SANTA MARÍA"

Gender

Male
Location
Country

Spain

City

Seville
More
Website

www.corosantamaria.org

About Me

The "Santa Maria" Choir is founded on November 21st, 1993, and arises from a group of singers linked with the Parish of Santa Maria de la Estrella (Coria del Río) who decide to set up a Polyphonic Choir. These young people together with some pupils of the newly created Conservatory of Coria (1991), begin to take part in numerous religious acts where they interpret authors' plays like To. Lotti, W.A. Mozart, J.A. García, J.S. Bach, G.F. Haendel, and so on.

In 1995 the young Sergio Asián takes charge of the choir direction leading it to offering its first concert in June 1996.

In the following years, from 1997 to 2000, the choir focuses its training on PLAAYS of the Middle Age and the Rennaisance managing to get an instrumental group that is added tO its name: "Instrumental Chamber and Chapel Santa María Choir"

The popularity of the choir causes its increasing in members from 18 to 35 in a few years, forcing the group to change their musical style so that it leaves the instrumental chapel and takes the current form.

It has given Christmas Concerts since 1998, taking part on countless Brotherhood Functions in Coria del Río as well as inSeville and its province

In 2003 the choir celebrates its 10th Anniversary giving many concerts. Since February this same year it has been set up as a Musical Association with the only purpose of keeping on spreading music and culture to their social environment.

Since 2007 it has organized an Annual Choirs Encounter gathering groups from Sevilla, Huelva, Cádiz, Málaga, Granada, Mallorca and Badajoz.

The Choir has also offered International Coral Encounters since 2007 with the participation of Vocal Groups from Denmark, Portugal, France and Italy.

It is one of the most demanded choirs in Seville in order to celebrate solemn ceremonies and brotherhood acts as La Macarena, San Esteban, El Cerro del Águila, La Paz, El Dulce Nombre, La Sed, and many others.

It has been a member of the FESECO (Federación Sevillana de Coros) since 2011 and participates in Festivals and Workshops that this institution organises.

It has participated in Coral Encounters in Aracena (2008), Cádiz (2008), Málaga (2009), Marbella (2011) , Ronda, Tomares (2012), Los Santos de Maimona (2013), Rota (2014) and Toledo (2015)

Throughout 2013 he was celebrating its twenty founding anniversary with concerts in Japan and Portugal.