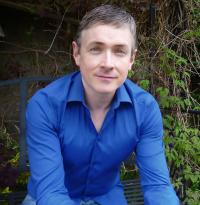 Personal Information
First Name

Michael

Last Name

McGlynn

Gender

Male
More
Website

www.michaelmcglynn.com

About Me

Michael McGlynn was born in Dublin in 1964. His musical language combines elements of medieval and traditional music (modality, ornamentation and drones) with jazz-tinged chordal clusters and a distinctive melodic sensibility.

Many of these elements can be heard in his "Agnus Dei" (2007), commissioned by Chanticleer for their multi-composer work "And on Earth Peace : A Chanticleer Mass". His best-known choral work is "Dúlamán" (1995), a setting of the traditional Irish poem of the same name. His choral music has been recorded and performed by vocal ensembles such as Rajaton, the National Youth Choir of Great Britain, The Dale Warland Singers, Conspirare, the BBC Singers, Kansas City Chorale, Cantus, the Phoenix Chorale and Chanticleer.

In 1987 he founded the Irish choral group ANÚNA whose repertoire features his compositions almost exclusively. He has produced and recorded sixteen albums for the choir with "Anúna" (1993), "Celtic Origins" (2007) and "Christmas Memories" (2008) all featuring in the US Billboard Charts. "Deep Dead Blue" (1999) was nominated for a Classical Brit Award and went top five in the UK Classical Charts.

His instrumental works include "Behind the Closed Eye", written for the Ulster Orchestra and in 2009 & 2010 the RTÉ National Symphony Orchestra (Ireland's state ensemble) presented an entire evening of Michael's orchestral output at Dublin's National Concert Hall. "Visions" (1996) for saxophone and piano, commissioned by Gerard MacChrystal, has entered standard repertoire.

He was visiting Eminent Scholar at the Music Department of Florida Atlantic University [2011-2013].

2012 included commissions for Chanticleer, "Amhrán na Gaoithe" [Song of the Wind], premiered in September of that year and in July 2013 by Anúna. It also saw the release of the Anúna album Illumination which includes the first recording of his choral work "Dormi Jesu" commissioned by Kultursamverkan Svenska kyrkan (the Church of Sweden). 2013 saw the premiere of a choral triptych for Florida Atlantic University, "Flowers, Sunshine and Shadows", and the release of his "Celtic Mass" by The Taylor Festival Choir, conductor Robert Taylor. This year will also see the first recording of the revised score for his cantata "Gawain and the Green Knight" (1991) for soloists, equal voice choir, piano and percussion. He will also begin work on a large-scale new project with Anúna which will feature collaborations with a wide span of musicians and writers.

Michael has led choral workshops in the USA, Poland, Japan, Canada and Sweden. Last year he undertook a major series across the Netherlands and gave a workshop at the Shanghai Conservatory of Music in October. In 2010 he was both a guest-judge and vocal advisor for Finland's X Factor. In 2011 he stewarded the first Anúna International Summer School at Dublin's National Concert Hall and adjudicated at the International Early Music Vocal Competition Canticum Gaudium in Poznań, Poland. He returns as Chairman there for the 2013 competition. In 2004 he loaned his solo tenor voice to a number one single in Ireland, duetting with Jerry Fish on the track "True Friends". He has also written songs with Country Music legends Rodney Crowell and Delbert McClinton.

Also an enthusiastic film-maker, his feature "Invocations of Ireland" has been released on DVD in Australia [DV1] and Japan [Columbia], and was broadcast across Australia and New Zealand in 2010 on the Ovation Channel. He lives in Dublin and is an ardent year-round sea swimmer.