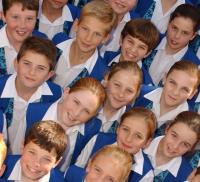 Personal Information
First Name

Anwen

Last Name

Towne
Location
Country

Australia

State

QLD

City

Brisbane
More
Website

birralee.org

About Me

Artistic Administrator - Voices of Birralee

Voices of Birralee is a Brisbane based non-profit child and youth choral organisation founded in 1995 by Artistic Director Julie Christiansen, OAM. It now comprises seven ensembles, which have attained a remarkable level of professionalism and are highly acclaimed by national and international audiences. This is demonstrated by the Birralee Blokes' current title of ABC Classic FM Australian Choir of the Year and "Choir of the World 2012". The organisation caters for approximately 300 young people aged between 5 and 30 years and employs twelve casual staff and in excess of twenty-five volunteers.
Children's Choirs

The Voices of Birralee philosophy wholeheartedly endorses the fact that every child has a song in their heart and that singing is as important and natural for a child to do as walking, talking and dancing. Experienced tutors nurture each member within the ensembles and classes commence from 5 years of age, in three training choir levels: The Birralee Piccolos, The Birralee Kids and The Birralee Singers.
Fundamental music principles are taught within the choral context, with a strong emphasis placed on having fun in a joyful creative environment and developing healthy vocal technique, aural perception and music literacy.


YOUTH CHOIRS
Birralee has three signature ensembles all of which have attained national and international acclaim. These ensembles provide experienced singers with an opportunity to expand their music education and experience and to rise to the challenge of achieving high artistic standards amidst a friendly and creative environment.

Brisbane Birralee Voices - Children's Choir - treble voices

Birralee Blokes - Boys and young men with changed or changing voices TTBB

Resonance of Birralee - Youth ensemble - post secondary school SATB


MALE VOICES
Voices of Birralee is acknowledged as a modern day pioneer in Australia and abroad, in the field of male voice singing. This reputation has been enhanced by the past, present and ongoing successes of The Birralee Blokes - This ensemble provides young men with an opportunity to sing in an all male ensemble which has a wonderfully unique sound and character. Most of the 'Blokes' have been singing for many years and are accomplished musicians. However, fundamental to their success, is the fact that younger boys whose voices are changing can join and develop their vocal technique and musicianship in a secure and supportive educational environment.
Younger treble boys (unchanged voices) are well catered for in the training choirs and in the signature children's choir Brisbane Birralee Voices.
Resonance of Birralee is a balanced mixed voice ensemble also catering for adult men.

AIMS
- Personal & Musical Integrity
- Appreciation and acceptance of diversity
- Celebration of Australian composers
- Strengthening of the skills, knowledge and practice of singing in Australian metropolitan and regional communities.
- Showcasing Australia's unique cultural identity internationally


ORGANISATIONAL OBJECTIVE
- The pursuit of artistic excellence in a nurturing and joyful environment.
- Artistic and personal development through self-discovery and self-expression.
- Programming which recognises the richness of cultural diversity and its relevance to music styles and music appreciation.
- The development of responsible members of society.

In addition to attaining a high artistic standard, Birralee's mission is to prioritise performances at events which have relevance to young people. This focus on community awareness and humanitarian causes contributes to the development of responsible young members of society. The Birralee ensembles maintain a busy schedule of performances which demonstrate support of organisations such as World Vision, Anglicare, CareFlight, The Abused Child Trust, Bravehearts, and the Wesley Mission. They have recorded a total of eleven CDs in addition to three ABC Classic FM Releases. A Christmas CD featuring all ensembles will be released in late 2012.

Repertoire selections from each of the ensembles embrace diversity of culture and tradition and cover an extensive range of musical genres. In fulfilling its mandate to celebrate the composers of Australia, Birralee engages, promotes and records works by Australian artists such as Paul Jarman, Harley Mead, Sarah Hopkins, Stephen Leek, Joseph Twist, Dan Walker and Timothy Sexton.

In 2007 Birralee showcased Queensland's unique cultural identity at two international festivals, in Cornwall, United Kingdom, at the 3rd International Male Voice Festival and in Seoul, Korea, at the 3rd World Vision International Children's Choir Festival.

In 2008, Resonance of Birralee successfully represented Australia at the World Choir Olympics in Graz, Austria, winning Gold and Silver medals in their categories.

2009 saw the Q150 Songbridge Tour to North Queensland, participation in the Ipswich Tattoo and hosting the World Vision International Children's Choir, among many other things.

2010 highlights included participation in the ANCA National Choral Fest in Port Macquarie, the Australian National Eisteddfod in Canberra, the KMEIA National Conference in Melbourne and an Advent Tour to Europe as well as numerous performances by all ensembles in Brisbane and on the Gold Coast.

2011 saw the second Pemulwuy! National Male Voices Festival, the 44th Queensland Youth Music Awards, participation in the Asia Pacific Summit Opening Ceremony and numerous other performances.

2012 - another year of tours - Resonance to Sydney to join with the Sydney Philharmonic Choir (Vox), Singers to Adelaide for "Young Australian Voices of Achievement", Voices to New Zealand and Blokes to Canada for the biennial Choral Kathaumixw. In addition to these tours, all ensembles also participated in various choral festivals throughout the year - Brisbane Sings; Young Voices Festival, Next Generation Sings; Raise Your Voice.