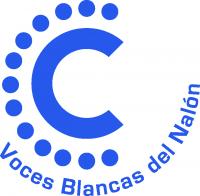 Personal Information
First Name

VocesBlancasdelNalón
Location
Country

Spain

State

Asturias

City

Langreo
More
Website

www.vocesblancasdelnalon.com

About Me

Voces Blancas del Nalón Choral Project

Proyecto Coral Voces Blancas del Nalón

This Coral Project is located in the Nalón Valley Basin, in the Conservatorio de Música del Nalón, to which it is linked as an activity of the Center.
It is currently made up of four sections, thus creating an educational and pedagogical structure: Youth chorus of female voices -Coro Voces Blancas del Conservatorio Valle del Nalon-, a mixed youth chorus (Changing voices choir) - Luzcorae-, a chorus of treble voices -Voblaninas del Conservatorio del Nalón- and a network of school choirs as a quarry of the project as the base of the pyramid.

Apart from this and within the project, a female amateur and adult community choir - Ensemble Voblana-.