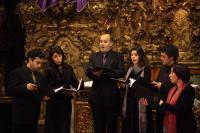 Personal Information
First Name

Olisipo

Last Name

Grupo Vocal
More
Website

www.grupovocalolisipo.net

About Me

Named after the latin name of the city of Lisbon, Grupo Vocal Olisipo began its activity in 1987. The group's repertory is quite wide and eclectic and ranges from sacred and secular early music to contemporary works. Besides singing some of the most important Renaissance and Baroque masterpieces, by composers such as Victoria, Palestrina, Byrd, Monteverdi, Purcell, Handel and Bach, the group has also premiered several contemporary pieces and made first modern auditions of many Portuguese Renaissance and Baroque works. Christopher Bochmann, Ivan Moody, Bob Chilcott, Luis Tinoco, Eurico Carrapatoso and Vasco Mendonça are some of the composers who dedicated works to Grupo Vocal Olisipo.

Grupo Vocal Olisipo attended several masterclasses led by some of the world leading vocal ensembles, such as The King's Singers and the Hilliard Ensemble and was coached in the performance of Baroque music by Jill Feldman.
In 1995, the group won an honorary mention in the Portuguese Musical Youth Contest and was a finalist in the Concorso Polifonico Internazionale "Guido d'Arezzo" finishing in second place and receiving the highest artistic score. The group was awarded first prizes in the XXIV International May Choir Competition (Varna, Bulgaria), the Tampere Choir Festival 97 (Tampere, Finland), the 36th International Contest of Choral Singing "C.A.Seghizzi" (Gorizia, Italy) and in the 5th Riva del Garda International Choir Competition (Riva del Garda, Italy).
Having performed in Portugal's main venues, Grupo Vocal Olisipo has also been in several other countries, namely Germany, Poland, Bulgaria, Finland, Italy, Spain, France and England. The group also gave concerts in the Flanders Festival in Malines, Belgium, the A Capella Festival in Leipzig, Germany and La Fabbrica del Canto in Legnano, Italy. In June 1999, Grupo Vocal Olisipo performed and led workshops in Festival 500 in Newfoundland and Labrador in Canada.
Besides several recordings for the radio and television (including a one-hour TV special), Grupo Vocal Olisipo has released several CDs: Mozart's Masonic Music, for EMI, Estêvão de Brito's Officium Defunctorum and Estêvão Lopes Morago's Christmas Music for Movieplay Classics, Tenebrae: Francisco Martins' Lent Responsories and Manuel Cardoso's Requiem for Dialogos as well as live recordings of Portuguese Baroque music, Eurico Carrapatoso's Magnificat and Christopher Bochmann's Opera Corpo e Alma.