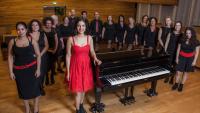 Personal Information
First Name

Noam

Last Name

Vazana

Gender

Female
Location
Country

Netherlands

City

Amsterdam
More
Website

www.hebrewgroove.com

About Me

Noam Vazana is an exceptional vocal coach and conductor with more than 10 years experience teaching and leading various educational productions. Her unique approach to vocal arrangement implements her skills as she uses close harmony voicing and blends influences of Gospel, Jazz and Pop into traditional Israeli-Mediterranean songs. The result is a fresh, groovy, sound-scape composed in sophisticated simplicity, alongside her spiking piano accompaniment.

Vazana's extensive education includes the Amsterdam Conservatory, the Tel Aviv Music Academy and the Jerusalem Music Academy. She had the honour to study with the finest teachers: Ivan Meylemans, Arnie Lawrence, Avner Biron, Michael Shani, Micha Davis, Galina Vracheva, Michael Wolpeh and Marina Levitt. She received masterclasses from: Zubin Mehta, Lucas Vis and Rex Martin. Noam conducted the Young Talent Wind Orchestra of the Jerusalem Music Academy and the Young Talent Choir of the Jerusalem Conservatory.