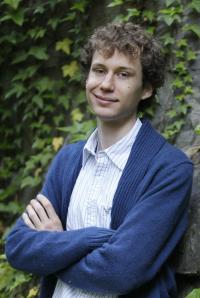 Personal Information
First Name

Ethan

Last Name

McGrath

Gender

Male
Location
Country

United States

State

TN

City

McDonald
Musical Information
Musical Activities

Arranger, Composer
More
Website

www.ethanmcgrath.com

About Me

Ethan McGrath is a composer from Chattanooga, Tennessee. Also a pianist and organist, he has performed extensively as a soloist and accompanist, performing a wide range of styles. His first experiences as a choral accompanist helped inspire him to compose many choral works—a pursuit that has since become the central focus of his career path.

His compositions have gained the attention of many choral directors throughout the United States—several of whom have programmed performances of his works—thanks in no small part to Earthsongs Choral Music and Colla Voce Music, who have published some of his choral pieces. These publications have also brought Ethan's work to the attention of Dr. Rodney Eichenberger, who has included Ethan's "When lilacs last in the dooryard bloom'd" in his choral workshops, as well as a reading session he directed at the 2013 American Choral Director's Association national conference.

Taking particular interest in English church music, Ethan derives much inspiration from Renaissance composers such as Thomas Tallis and William Byrd, as well as more recent composers such as Ralph Vaughan Williams, Herbert Howells, and John Rutter. His influences are eclectic, also incorporating folk music from various countries, but the music of J. S. Bach and Johannes Brahms has exerted the greatest influence on Ethan's work. In addition to his choral work, Ethan has written many songs and piano works—most of which are featured on his 2013 CD, 'An Echo from Willowwood'—as well as a selection of works for orchestra and various chamber ensembles.

Ethan is nearing the completion of his bachelor's degree in composition from the University of Tennessee at Chattanooga. He also spent two years studying organ at Southern Adventist University with Judy Glass, who helped instill in him a passion for baroque music and period performance. Active as a pianist and organist, Ethan was a winner of the concerto competitions at both aforementioned universities in 2012, and has performed in master classes for Walter Hauzig and Jon Kimura Parker.

Outside of composing and performing music, Ethan likes to write about it, and is particularly interested in exploring how the various arts are interrelated. He also likes to read and write about various other subjects, such as religion and the humanities, and particularly enjoys spending time in nature, where he derives much inspiration for his music.