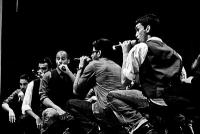 Personal Information
First Name

Chai-Town

Last Name

A Cappella

Gender

Male
Musical Information
Musical Activities

Singer

Voice

Baritone

Member of Choirs

Chai-Town
More
Website

chaitown.org

About Me

Chai-Town was formed at the University of Illinois, when a group of young men came together with their love for music. They wanted to show how two seemingly different cultures can fuse together to produce something great. This vision has grown into Chai-Town A Cappella.

Last year we performed at the a cappella competition Anahat, in Berkeley, CA, as a guest act at the dance competition Naach Nation, in New York, NY, and across the Midwest. As 2012 approaches, our group will be reaching its 10th anniversary and putting out our THIRD studio album!

Chai-Town is a completely student-run, non-profit group of 16 members, each of whom has a passion for music. We love sharing this passion with our friends and family, our community, and the world.