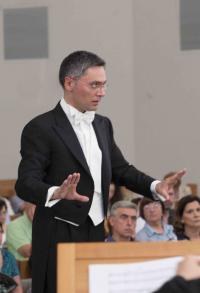 Personal Information
First Name

Antonio

Last Name

Magarelli

Gender

Male
Location
Country

Italy

City

Molfetta
More
About Me

Antonio Magarelli is graduated in Piano, Music Pedagogy, Choral Music and Choir direction, Band Instrumentation and Conducting at the conservatories of Bari and Monopoli. He continued his studies of the technique of direction and interpretation of the repertoire with P. Neumann, G. Graden, N. Corti, J. Busto, Bo Holten and D. Rouits. He attended the International Academy for choir and Choral Conductors and Singers in Fano and the Laboratory of choral conducting at the Conservatory of Monopoli, with Filippo Maria Bressan. He studied singing technique with Claudio Cavina and Steve Woodbury. He specializes in the interpretation and practice of the Renaissance and Baroque repertoire with Giovanni Acciai, Ottavio Dantone and Marco Berrini. At the institute "S. Cecilia" in Brescia he attended an annual course of Semiography and Musical Palaeography and a Laboratory of Renaissance and Baroque music with Giovanni Acciai.
He is frequently involved, as choir and orchestra director, playing an intense concert activity. He participated as a speaker at the VI National Conference at the Research Center of History and Art in Bitonto (Ba) publishing an essay on the Renaissance composer Agostino Scozzese. He edited the transcription of some of the works of Francesco Durante and two books of madrigals of Luzzasco Luzzaschi.
He directed the world premiere of two new works by composers from Puglia: the Passio Domini Jesu Christi Secundum Our Joannem (1816), sacred oratorio for soloists, chorus and orchestra by Vito Antonio Raffaele Cozzoli (1777-1817) and Inno al Sole by Giuseppe Millico (1737-1802), cantata for two sopranos and orchestra, with original instruments.

With the record company DigressioneMusic he recorded choral works by the contemporary composer Francesco Lisena and the Passio Domini Jesu Christi Secundum Our Joannem by Vito Antonio Cozzoli with period instruments. He collaborates as a teacher and conductor in the baroque chamber music summer courses organized by the Accademia Amsterdam, with which he has performed in numerous concerts. In december 2015 commissioned by Conservatory of Bari, he directed 'Gli stravaganti' by Puccini.
As conductor he prefers the performance of the repertoire of the eighteenth and early nineteenth century. Since 2007 he is director of the Corradiana Music Chapel, choir and orchestra, based in Molfetta, regular guest in some italian festivals such as Anima Mea, and regularly it take s care of the liturgical service in the Molfetta Cathedral. He has more than one hundred concerts. He directed Corradian Musical Chapel in Rome on the occasion of the International Congress organized for the Fiftieth Anniversary of the Lateran Council by the Pontifical Committee for Historical Sciences and in Essex (UK) on the occasion of the Maldon Festival 2015, with Corradian Music Chapel he directed some premiere works by Pansini, local composer in Budapest in april of 2018.